Terremoto
On the evening of September 16th, a large 8.3 magnitude earthquake struck the coast of Chile, 225 Km North of the capital Santiago.
There were also other earthquakes that struck in North America around Oklahoma and southern California around 4.0 magnitudes and in the West Pacific in the Philippines and Taiwan at 6.0 magnitude.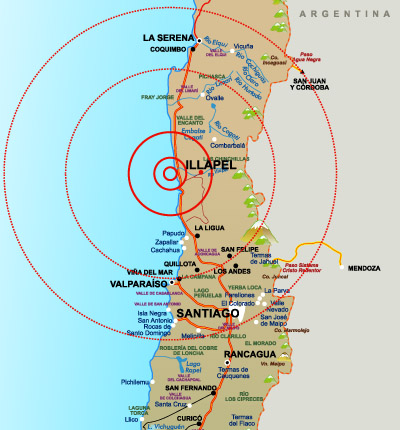 http://www.adventuretravelnews.com/update-from-chile-operator-after-september-16-earthquake
I am sure if you were on Oahu, you were also aware of this earthquake as they issued tsunami warnings in Hawaii as well.
Being born and raised in South West Colorado, I never experienced natural disasters and this was my first natural disaster, besides the hurricane warning from my freshman year on Oahu. (which luckily never struck the island).
I was conveniently taking a nap in my home stay at the time the earthquake struck.
Although, I was supposed to meet a friend at the mall an hour before, but I somehow slept through my plans. It is a weird coincidence as I usually would never sleep through plans, but I did not have much sleep the night before. I will always be very grateful I was in bed when the earthquake struck and not out in the huge three story mall that makes the Ala Moana mall seem small.
When the earthquake struck, I also realized that I had no idea what to do in an earthquake. Do I run to the door? Outside? Was a larger earthquake going to strike next? The only thing I could think of was movie scenes where the ground splits open in the midst of the quake.
So, there I was waiting for the ground to split open underneath me. Luckily, it never did. Our house rocked back and forth for a minute and then it appeared to be over. Suddenly, it started shaking again and I was able to capture a quick video.
When the earthquake ended, I immediately got out of bed. I spoke with Victoria right away and asked her when the next earthquake was going to strike? She smiled and thought I was joking because the largest earthquake had already struck. We then went downstairs to meet with my host father and Paula. My host father and Paula were both extremely calm and I could tell that experiencing earthquakes was a normal experience for them. I was told to leave with Victoria and Paula to the restaurant as it was farther away from the ocean. (There were immediate tsunami warnings following the earthquake) My host father was going to wait at the house for my host mother as she was out at the gym and swimming pool.
We then began walking to the restaurant. Some people on the streets appeared to be calm and patient, while others were pushing and running to get to their homes. Paula and Victoria kept me calm as they explained there should not be a large earthquake after, as the first quake is the largest. They also told me about their experience in 2010 when a larger earthquake struck Chile and was a magnitude of 8.8, which was the fifth largest earthquake recorded by a seismograph. (At this time, we did not know how the magnitude of the current earthquake) so, they reassured me that this earthquake was not as strong and if we were at the restaurant we could easily evacuate to higher ground if a tsunami were to strike. They started laughing and told me that was the earthquake and it eased the tension.
Once we were at the restaurant, we waited for my host mother and father. We also pulled out a radio and listened to the news broadcasts regarding the earthquake. That is when we discovered the earthquake was an 8.3, but in Viña it was around a 7.9. My host mother then showed up at the restaurant and was very excited to see me as she thought I would have been at the mall when the earthquake struck.
When the warnings ended, we walked back home. There had been quite a few aftershocks from the earthquake, especially a large one in the middle of the night.
The aftershocks continued throughout the next months of my stay within Chile and they soon became normal to me as well.
Although, the city where I was in Viña did not experience bad damage, other areas and cities in Chile were not so luckily. Below are a few pictures from Coastal Cities in Chile that were not left unscathed. Especially, the areas that are impoverished and do not have well built structures to protect them such as the larger cities.
http://www.theguardian.com/world/2015/sep/17/earthquake-in-chile-rocks-capital-santiago
https://zachnews.wordpress.com/2015/09/16/news-update-illapel-chile-latest-information-regarding-magnitude-8-3-earthquake-and-tsunami-alert/
The pictures above are not my own, as the area where I lived did not become destroyed badly. Although, the large cities did not experience bad damage, but 1 million people needed to evacuated and everything they owned was lost. (The pictures are from news websites and google).
I was also surprised at how calm all of the Chilean students and professors at the University were. As International Students were making remarks on how the earthquake was one of the most fun, craziest, Adeline rushes of our lives, people who were born and raised in this part of the world, were used to this experience.
When the aftershocks would strike at the University, the building would shake and the professors would not stop class or hardly even react to the earthquake. One professor would say ¨C´mon people it´s Chile¨ as many of the International students including me would always react.
After my experience with the large earthquake I truly understand how valuable life is and how we as human beings truly never know the moment life could end. I also have a large respect for people who live in the ring of fire and experience earthquakes normally as they are extremely brave human beings.